Committed to the circular industry
We are the largest circular supply chain in Europe
Committed to sustainable mobility
We produce low-emission, high-performance steel for the mobility sector
Committed to climate change
We want to be Net Positive by 2050 and reduce scope 1 and 2 emissions by 50% by 2030
Committed to people
We are committed to the talent and development of our team
Committed to customers
We strive to get the highest quality and service standards
Committed to innovation
We innovate to grow sustainably and effectively
Committed to
the circular industry
We are the largest circular
supply chain in Europe
Committed to
sustainable mobility
We produce low-emission,
high-performance steel for
the mobility sector
Committed to
climate change
We want to be Net Positive by 2050
and reduce scope 1 and 2 emissions
by 50% by 2030
Committed to people
We are committed to the talent
and development of our team
Committed to customers
Our customers
are our reason for being
Committed to innovation
We innovate to
grow sustainably and effectively
Global Steel Wire Group is the European leader in high value-added wire rod and Europe's largest downstream integrated group. The Global Steel Wire Group consists of Global Steel Wire S.A., which includes a modern electric furnace melt shop and a rolling mill; and the Wire Works Division, with six integrated downstream companies for the processing of wire rod.
The Group, located in Spain, has its own port and international warehouses that allow us to supply customers offering great strategic and competitive advantages in all the technologically demanding sectors in which we operate.
Additionally, Global Steel Wire Group is part of CELSA Group™, the largest European manufacturer of circular steel with 8 million tons of scrap recovered annually and an annual transformation and sale of 7 million tons of steel.
In Global Steel Wire Group and the entire CELSA Group™, steel is only manufactured from recycling scrap in electric arc furnaces, the most energy and environmentally efficient steel manufacturing process, which allows CELSA Group™ to produce steel with low CO2 emissions.
GSW Group, with the firm commitment to the circular economy, allows waste to be returned into the economic cycle, valorizing 98% of the waste generated in the steel manufacturing. These by-products are used as secondary raw material for processes such as road construction or reused back in the steel manufacturing process.

International presence of the CELSA Group™.
and the Global Steel Wire Group
GSW Group
Headquarters
Steelworks
Rolling mills
Active Sale
International presence of the Global Steel Wire Group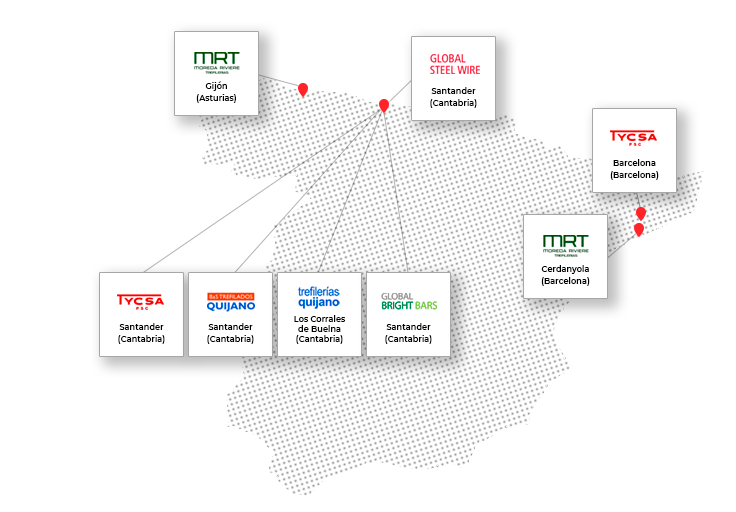 Global Steel Wire Group in figures
Find out about our key statistics, which, through hard work and continuous improvement, have made the Global Steel Wire Group a leading group in Europe.


1.400
GSW Group employees


900,000
Tonnes of steel produced


4,700
Estimated indirect employment generated



695
Million euros of turnover in 2019


+70
Million euros invested in the GSW Group in the last three years