Returning products to their life cycle is our priority
Home > Products > By-products
Coproductos
Global Steel Wire, posicionado entre los líderes europeos en alambrón de alto valor añadido, cuenta con una extensa gama de calidades y diámetros, fabricados conforme a normas internacionales y adaptados a las especificaciones técnicas de nuestros clientes.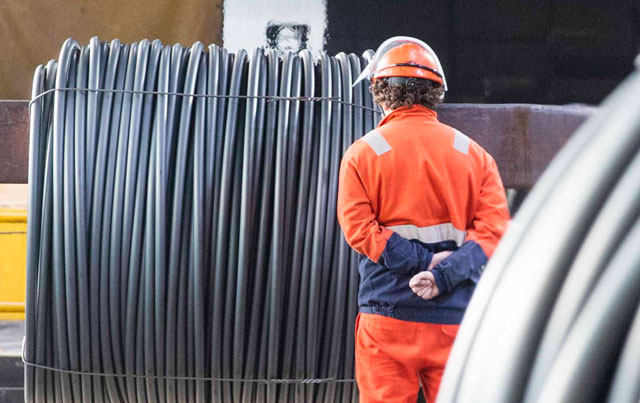 Coproductos
La economía circular es un modelo de producción y consumo que implica reducir los residuos al mínimo, manteniéndolos dentro de la economía siempre que sea posible. Surge así el concepto de coproducto.
Los coproductos que se generan durante nuestro proceso siderúrgico se gestionan asegurando las condiciones de calidad necesarias para ser aprovechados como materias primas secundarias en otros procesos industriales.
La gestión de los coproductos se ha convertido en los últimos años en una de nuestras prioridades. Resultado de ello es la identificación de nuevos usos industriales o la reutilización de parte de estos materiales de nuevo en el proceso siderúrgico. Actualmente alrededor del 98% de nuestros residuos son reutilizados, reciclados, recuperados o valorizados.
Los coproductos principales generados dentro del Grupo Global Steel Wire son el árido siderúrgico (negro), el óxido de zinc, el óxido de hierro, el árido siderúrgico (blanco) y los refractarios.
By-products
The circular economy is a model of production and consumption that involves reducing waste to a minimum, keeping it within the economy wherever possible. This gives rise to the concept of by-products.
The by-products generated during our steelmaking process are managed in such a way as to ensure the necessary quality conditions to be used as secondary raw materials in other industrial processes.
By-product management has become one of our priorities in recent years. As a result, we have identified new industrial uses or the reuse of part of these materials back in the iron and steel process. Currently around 98% of our waste is reused, recycled, recovered or valorised.
The main by-products generated within the Global Steel Wire Group are slag aggregate (black), zinc oxide, iron oxide, slag aggregate (white) and refractories.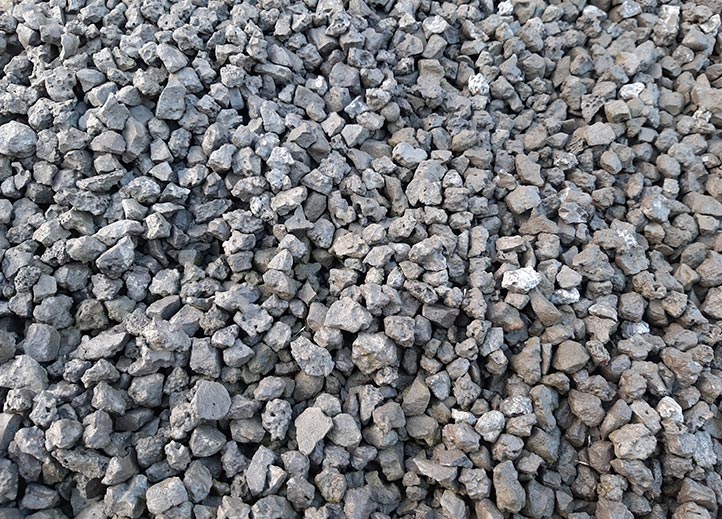 Slag aggregate (black)
Slag aggregate comes from processing the black slag produced during the steelmaking process in the electric arc furnace. It is primarily used as an aggregate for producing asphalt, concrete, granular bases and sub-bases for road surfaces.
The following treatments are applied in order to guarantee volumetric stability, quality and sizes of the resulting slag aggregates suitable for the different applications: Cooling and stabilisation of compounds, crushing, de-ironing, screening, stockpiling and product classification.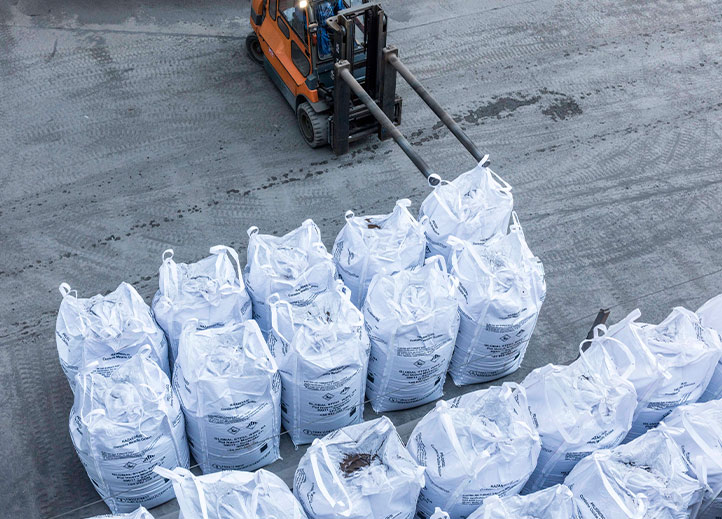 Zinc oxide
Steel mill dust is collected from bag filters in the gas scrubbing systems for the gases generated by the melting and refining furnaces. This dust contains metal oxides, among which zinc oxide stands out due to its high commercial value.
It is valorised externally by the Waeltz process, which produces an enriched zinc oxide that can be further purified to commercially pure metallic zinc.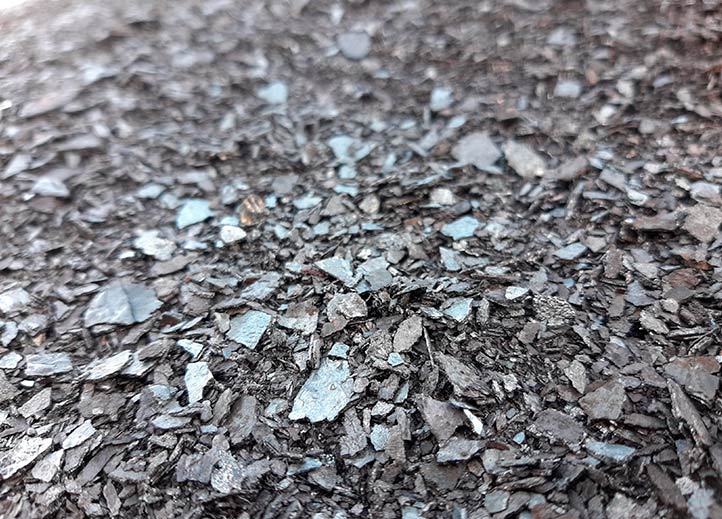 Iron oxide
Scale is obtained in the steel rolling process and originates from hot steel surface oxidation.
It consists predominantly of iron oxides, and is used in other industrial processes that require iron, such as integrated steelmaking, cement manufacture and ferroalloy manufacture.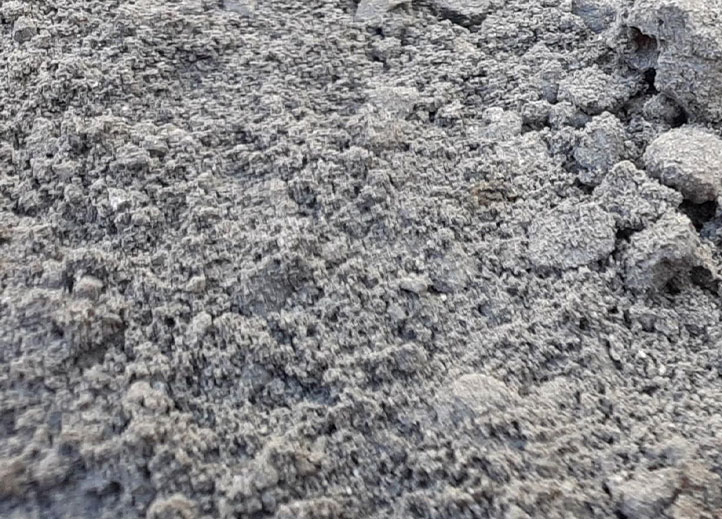 Slag aggregate (white)
Secondary metallurgical slag is produced in the refining furnace. Its calcium oxide (CaO) content makes it useful to be reused again in the iron and steel process and also as a raw material for cement manufacture, thus contributing to the reduction of CO2 emissions due to the absence of carbon in its composition.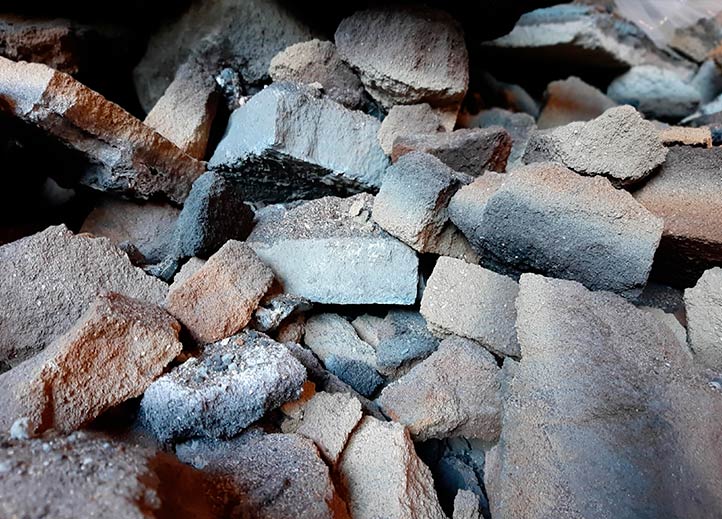 Refractories
The main refractory wastes generated in the steelworks process are the Magnesium Oxide (MgO) masses from the tundishes and the Magnesium-Carbon, Isostatic and High Alumina bricks. These materials are recovered for the most part, in order to be reused again in the process and to obtain new raw materials to produce refractory and steelmaking materials.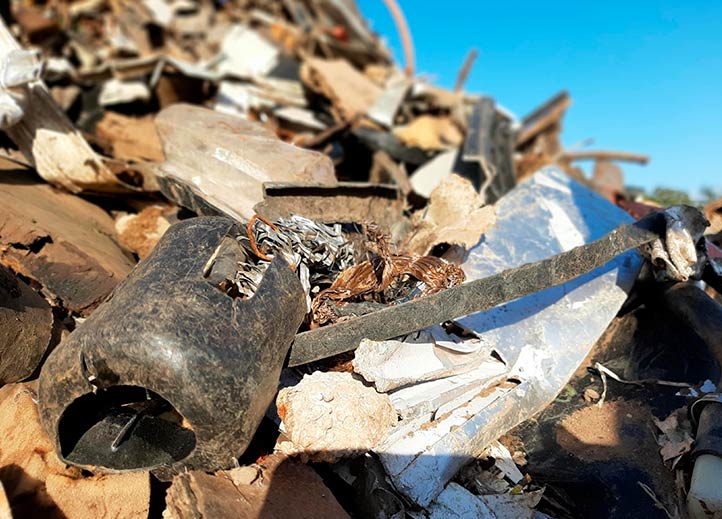 Scrap yard soils
The scrap yard soils are largely composed of ferrous oxides that are released from the scrap and non-ferrous metals present and separated by magnetic means as a result of the scrap handling process. They are valorised to recover non-ferrous metals such as aluminium, copper, brass or bronze.